Table of Contents
Will China's Central Bank Be the World's First Central Bank to Launch its Digital Currency?
American Millennials are Discovering Bitcoin as a Saving Option
Do CPI Data Reflect Real Inflation in the United States?
---
1. Will China's Central Bank Be the World's First Central Bank to Launch its Digital Currency?
9/12/2019
The People's Bank of China is going to conduct the first real-world test of its central bank digital currency (CBDC), the blockchain-based version of the country's legal tender, the Yuan.
The test will take place initially in the city of Shenzhen and later possibly in the city of Suzhou.
Four major banks and major economic participants, such as China Telecom, are said to test digital currency payments using the CBDC.
Says a representative of China Telecom, "Compared with the previous pilot, this time, the central bank's legal digital currency pilot will go out of the central bank system and enter real service scenarios, such as transportation, education, and medical treatment, reaching end-users and generating frequent applications."
In Shenzhen, the PBoC is encouraging what it describes as a "horse race"; each bank is encouraged by the PBoC to manage the digital currency in its own way, even competing against each other (the PBoC uses the term "horse race") for the implementation of this new payment technique.
Should this test take place, the PBoC will be the world's first central bank to issue a digital currency.
---
2. American Millennials are Discovering Bitcoin as a Saving Option
12/06/2019
First, what does "millennials" mean?
The term "millennials" identifies the generation (also called "Generation Y") with the early 1980s as starting birth years, and the mid-1990s to early 2000s as ending birth years, with 1981 to 1996 being a widely accepted definition. The commonly accepted breakdown of the last four generations is as follows:
Baby Boomers, born between 1944-1964 (currently between 55-75 years old)
Gen X, born between 1965-1979 (currently between 40-54 years old)
Gen Y (or Millennials), born between 1980 and 1994 (currently between 25-39 years old)
Gen Z, born between 1995-2015 (currently between 4-24 years old)
And what about GBTC?
The Grayscale Bitcoin Trust BTC (GBTC), formerly The Bitcoin Investment Trust, was created in 2013. It trades on the OTCQX, an over-the-counter market and is designed to track the Bitcoin market price.
Currently, its market cap amounts to ca. $2.6 billion.
On December 4, Charles Schwab released a report regarding its clientele's favourite investments as of the end of the third quarter of Q3.
Under the column for "Millennials" (those born after 1981 and before 1996), it was noted that 1.84% of this demographic's collective net worth was allocated to Grayscale's Bitcoin Trust. 
This made GBTC the fifth-most popular investment among millennials after Facebook, Tesla, Apple, and Amazon in retirement accounts (including 401(k)s) with almost 2% of their assets tied to the success (or failure) of the largest cryptocurrency.
---
3. Do CPI Data Reflect Real Inflation in the United States?
According to the Bureau of Labor Statistics, US Department of Labor, in June 2018, the CPI (consumer price index; i.e., the price increase of all items) increased by 1.6% on a year-to-year basis.
As reported in the RIA article, market research firm Gordon Haskett Research Advisors conducted a study between June 2018 and June 2019 to assess the CPI. The study consisted of purchasing a basket of 76 frequently bought items, and then comparing their price increase on a year-to-year basis.
Walmart and Target were picked up, as they were deemed to represent the overall buying experiences of US consumers; Walmart is the largest retailer in the United States, with over 3,000 locations targeting price-conscious consumers; while Target, with its 1,800 locations in the United States, targets not only this class of consumers but also less price-sensitive ones.
The study showed that from June 2018 to June 2019, prices increased by about 5%.
But how about other basic consumer services, like housing, healthcare, and education?
In terms of housing, in May 2019, rental costs had increased at an annualized rate of 3.8%.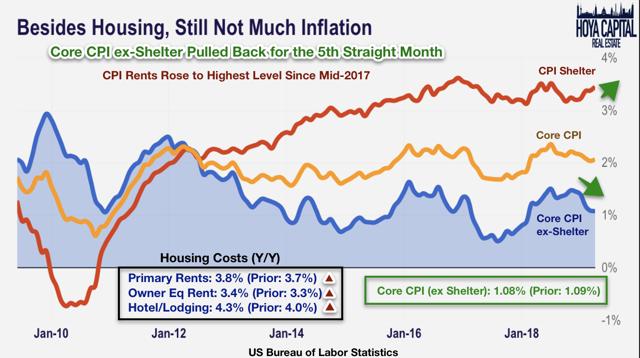 The author of the article, Hoya Capital Real Estate, also remarked on the importance of this source of spending. As the following chart shows, for decades, housing costs have accounted for a growing share of total spending. Even more important, "housing inflation has significantly outpaced wage growth and broader inflation since [the] 1990s."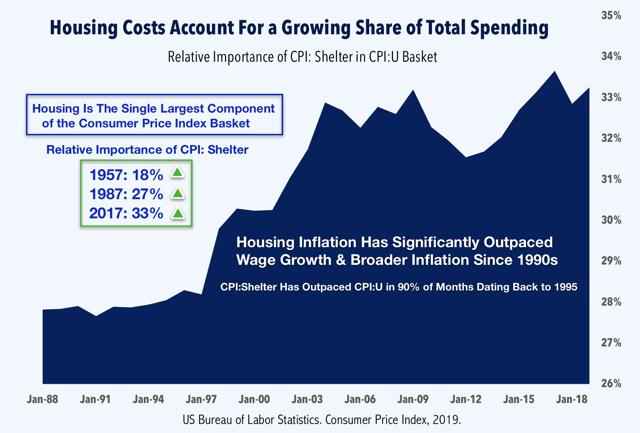 And how about healthcare and education?
The CPI clearly doesn't reflect these areas, specifically their increase, as shown in the following chart (Sources: Deutsche Bank – 11/14/19).
According to the RIA article, medical care costs have increased by 5.2% YoY, and education costs have risen by 6.8% YoY. 
All the while, wages of non-supervisory and production workers have fallen behind, with a 3.15% increase YoY.
The article concludes by mentioning some implications of this discrepancy between BLS CPI and real costs of living, regarding both the Fed policies and savers.
While on one hand, BLS's alleged low inflation rates get exploited by the Fed to justify low interest rates, thus overheating risk assets and allowing the financial markets to borrow liquidity at low rates; on the other hand, this discrepancy means that savers are living in a de facto negative interest rate environment because although the 10-year Treasury bond rate is 1.75%, inflation increases this amount to 5%.
Read More